Thank You For Ordering Primer Workouts System
Please watch this short video for instructions on how to get started on your program.
NOTE: In this video, I call this program the "Ultimate Injury Warm Up Bundle" - this was just the former name - it is now known as Primer Workouts System.
Please watch this video for a quick tour of this download page.
Access All Your Programs Here:
If you are looking for a resource to help with your hip pain and get you back to pain-free workouts, check these out:
Common Questions
#1 - When will I receive my order?
All download details have been emailed to the email address you ordered with. It should be in your email box in about 15 minutes. Please note, it can sometimes take up to an hour for it to arrive.
If you ordered the physical DVDs, we are processing your order right now.
Your order has been instantaneously sent to our warehouse. It will take the warehouse an approximate time frame of 1 to 3 business days to get your DVD ready and shipped out.
After it has been shipped out, it typically takes:
| | |
| --- | --- |
| Location | Delivery Time |
| Continental United States | 3 to 5 Business Days |
| North America (Canada, Mexico, Rest of the USA) | 7 to 14 Business Days |
| Rest of the World | 14 to 21 Business Days |
*Business days are Monday to Friday, excluding holidays.
Are there other questions we can answer about your order? Please contact us at support@ExercisesForInjuries.com and we'll be happy to help.
#2 - What if I don't see the email from Rick?
Check the Trash or Junk folder of your email program. Your email program may have flagged the email as trash, spam or junk.
#3 - How do I ensure that I receive all future updates for my program?
When these updates are available, you will be notified by email, so make sure you have added News@ExercisesForInjuries.com and News@ExercisesForInjuries.net to your email program to ensure you get access to these important updates! Click here for a quick and easy guide on how to add these emails now…
#4 - Where can I send additional questions?
Please email me at support@ExercisesForInjuries.com. I will get back to you within 48 hours / 2 business days. When emailing please include the name you ordered with, the email address you ordered with and your order number.
#5 - What will appear on my credit card?
Your credit card statement will show a charge from EX4INJURIES.CO 8882912430 BC
#6 - How do I unsubscribe from these emails?
At the bottom of each and every email I send you is an unsubscribe link that you can use to unsubscribe. Please note, if you unsubscribe from my emails, I won't be able to send you updates of the program and other important information.
#7 - How quickly can I get started?
If you ordered the Digital Only version of the Primer Workouts System, then nothing will be mailed to you. You can find all of the components and downloadable programs on this page. If you ordered the Digital + DVDs version of the Primer Workouts System, then your DVDs and manuals are being shipped to you now (see chart above for timelines). Keep in mind that you do not need to wait for them to arrive to get started. The downloadable digital versions of the programs are immediately accessible on this page. Just click on the links above to get started.
#8 - Do I need to consult with a physician prior to starting this program?
If you have any concerns regarding your health, please consult with a physician prior to starting any new exercise program.
#9 – What if my password does not work?
The password is case sensitive, so make sure you are entering the password as is. Better yet, copy and paste the password into the field provided.
#10 – I am having issues with the sound and images of the videos, what should I do?
If you have any issues with the videos, especially not being able to hear the sound of the videos, these are the things you can try:
Try viewing them in a different web browser. The videos support these browsers: Chrome, Safari, Firefox, Opera and Internet Explorer.
Try viewing them on your computer or laptop instead of your tablet or smartphone.
Clean the cache of your web browsers, see if there are updates for your browser and then reboot your device.
Empty out the trash of your computer, make sure all of the updates are done on your computer especially your web browser and video player. Then reboot your computer.
Try downloading the "Mobile SD" version of the video to your computer and playing it on VLC media player which is a very stable and clean media player ( http://www.videolan.org/vlc/index.html )
If you have tried all of the above, contact us at Support@ExercisesForInjuries.com and we will help you more.
#11 – I only hear sound through one speaker or headphone, what can I do about that?
For a Mac:
If you hear primarily out of one ear, you can make your computer play stereo audio tracks as mono audio in both the left and right headphones or speakers.
#1 – Choose Apple menu > System Preferences, click Accessibility, and then click Audio.
#2 – Select the "Play stereo audio as mono" checkbox.
Thanks!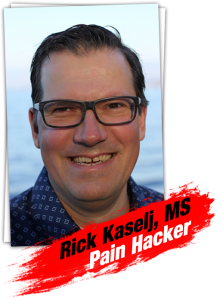 Rick Kaselj, MS
Creator of Primer Workouts System
ExercisesForInjuries.com

P.S. I'm looking forward to hearing about your success with the program! Send me an email with your story, or any questions you have to: support@ExercisesForInjuries.com.